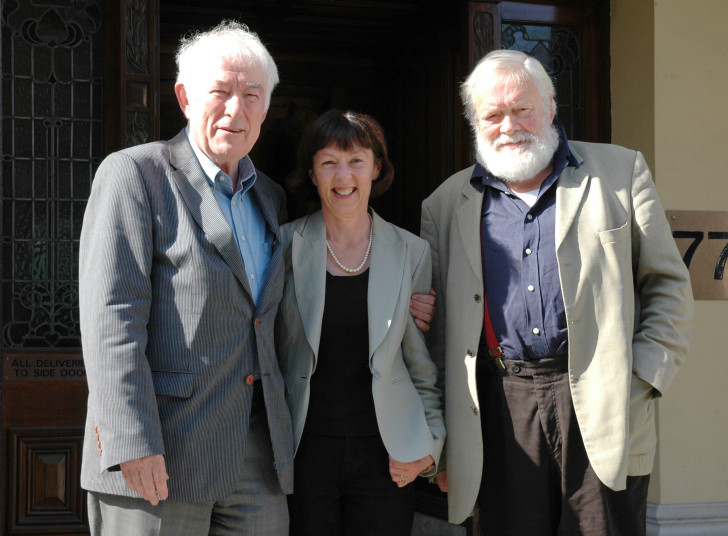 The Trustees of the Ireland Chair of Poetry have learned with deep regret of the death of our colleague Seamus Heaney. It was as a direct response to his award of the Nobel Prize for Literature that the Ireland Chair of Poetry was established. He was a committed and active member of the group of Trustees from the inception of the Chair until his death.
His death leaves a great void in Irish society and in the lives of very many people in all parts of the island of Ireland.
He was in a very special way the embodiment of poetry and he succeeded in bringing its richness to the centre of our consciousness.
He had the great gift of being able through his poetry to explore and to elevate the ordinary realities of our daily lives and to offer penetrating insight and deep understanding thereby. He spoke to the people and the people listened.
He also wrote with deep appreciation and sensitivity about the role and importance of broadcasting in our journey into "the wildness of the world" and he has enriched the archives of RTÉ and BBC through his generous availability. Future generations will rejoice in that inheritance.
Just two weeks ago I was among those who sat rapt at the reading that he and Michael Longley gave at the Merriman Summer School in Lisdoonvarna. The intimacy of the relationship with the capacity audience and their deep appreciation of the work of both poets will live forever in the memory.
The announcement of the new Ireland Chair of Poetry by President Higgins later this month will miss Seamus Heaney's inspiring presence.
Our sympathies are with his wife Marie and with his family.
Bob Collins, Chairman, Ireland Chair of Poetry